The Muslim Issue
Sweet. It's not so difficult now, is it. But reality is, this is a tiny Muslim minority who struggle to do it differently.
.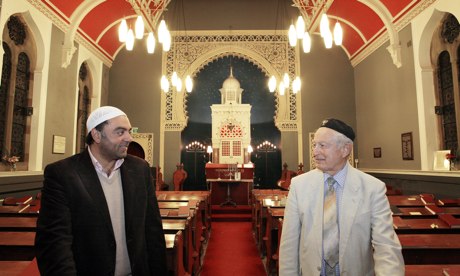 Struggling British Synagogue Saved By City's Muslims
The Guardian
Helen Pidd, The Guardian
Dec. 21, 2013, 11:08 AM 1,314
It was around this time last year that the trustees of Bradford's final remaining synagogue faced a tough choice. The roof of the Grade II-listed Moorish building was leaking; there was serious damage to the eastern wall, where the ark held the Torah scrolls; and there was no way the modest subscriptions paid annually by the temple's 45 members could cover the cost.
Rudi Leavor, the synagogue's 87-year-old chairman, reluctantly proposed the nuclear option: to sell the beautiful 132-year-old building, forcing the congregation to go 10 miles to Leeds to worship.
It was a terrible proposition, coming just after the city's only Orthodox synagogue had shut its…
View original post 767 more words